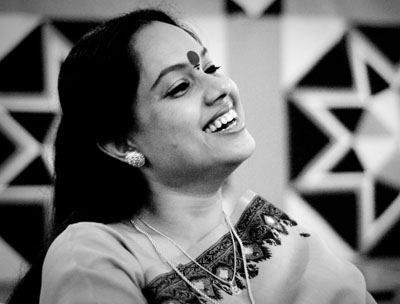 Indrani Mukherjee, renowned Hindustani Classical Vocalist, performs Khayal in Kirana - Rampur style and Thumri in Purab Ang, She hails from Kolkata, West Bengal. India.
Indrani's great artistic repertoire and exceptional aesthetic sensibility leaves an indelible impression on the minds of her audiences and critics alike.
Initially started learning with her Mother, Aunt. Then she took taalim from her maternal Grand Father Shri Sanjib Banerjee.
In1996, Indrani was selected as a scholar of the prestigious ITC Sangeet Research Academy, Calcutta and came under the able guidance of Pandit Arun Bhaduri, and continued her Taalim for more than 20 years.
Since 2012 Indrani is learning with Vidushi Manju Sundaram Ji.
She also pursued her learning with the Late Vidushi Purnima Choudhury Ji and took Taalim for few years with the Late Pandit Ramashray Jha Ji .
Indrani is graded Artist in All India Radio & Television for both Khyal and Thumri. She is an empanelled Artist of ICCR (Indian Council for Cultural Relations) and Spic Macay. She is also a graduate from Burdwan University.
Performed in some Important concerts in India, such as–
Sawai Gandharva Bhimsen Mahotsav- Pune,Baba Harivallabh Sangeet Mahasabha (Jalandhar,Punjab), Swar Zhankar (Pune),Kumbh Mela (Prayagraj, Dept. Of Culture, Uttar Pradesh), Dr.Basant Rao Deshpande Sangeet Smiriti Samaroh- SCZCC Nagpur, Thumri Festival – Sahitya Kala Parishad - New Delhi,Guru Kelucharan Mahapatra Award Festival (Bhubaneshwar), CONCERT FOR HARMONY 2018-Shimla ( NZCC- Patiala, Dept.of Language, Art and Culture, Govt Of Himachal Pradesh),Sangeet Bihaan- Sangeet Natak Academy (Patna), Ravi Shankar Centre- RIMPA Festival (New Delhi 2016 & 2017), Serendipity Arts Festival (Goa),West Bengal State Music Academy Annual Music Festival (Kolkata), CHAITI- ICCR & Kalaprakash - Varanasi, IHC Lok Sangeet Sammelan- India Habitat Centre - New Delhi, All India Vyas Mahotsav- Varanasi, Santarampant Kirvadkar Smriti Shastriya Sangeet Mahotsav, SCZCC, Ministry Of Culture, Govt Of India- Nagpur, Burwa Mangal- Varanasi, Golden Greats Of Indian Music- India Habitat Centre, Delhi , IIC- Delhi, Rajguru Smruti Sangeet Samaraho – Karnataka Chitrakala Parishat,Bangalore, Bharatiya Sangeet Vidyalaya – Dharwad, Kala Prakash-Varanasi, Naad Brinda - Silchar, Assam, 75th Birthday Celebration Concert Of Pandit Shankar Ghosh - Kolkata, Sangeet Research Academy – Kolkata, Sangeet Piyasi- Kolkata, Salt Lake Music Festival – Kolkata, Sur O Sadhok (Pandit Arun Bhadhuri's 50 years of musical life),Swami Haridas Sangeet Sammelan- Mumbai, Concert in Memory of the late Pandit Biswanath Bose and Vidushi Bharati Bose, For Shri Ganesh Haloi's exhibition Benares- Akar Prakar, Kolkata, Sri Aurobindo Ashram- Delhi and Pondicherry, to name a few.
Beside performing important concerts and Festivals in India, Indrani has performed major concerts and Festivals in USA, Europe, Canada and Middle East, represented India in some important Festivals like – Magie dex Voix( France), International Mugam Festival (Baku, Azerbaijan), Oriental Landscape Festival (Damascus, Syria), to name a few.
Some Other Concerts and Festivals in Abroad where Indrani has performed are-
Darbar Festival (London, UK),Learn Quest Music Conference (Boston, USA), Eastman School Of Music (Rochester University, USA), Indian Fine Arts Academy San Diego (San Diego, USA), Pandit Jasraj School Of Music (Vancouver, Canada), Raga Mala (Calgary, Canada), Raga Mala(Edmonton, Canada), Basant Bahar (San Francisco, USA), House Of India (San Diego, USA),
Kabir Cultural Centre (Ottawa and Montreal, Canada),India Community Center (Rochester, USA), Indian Performing Arts Of Charlotte (USA), MIT (Boston, USA), University Of Buffalo, (NY, USA, by Triveni), Ali Akbar College Of Music (Basel, Switzerland), Kartik Seshadri Centre Of Indian Classical and Improvised Music (San Diego, USA), Live in Radio France for the Indian Festival in Lille, Musse Guimet (National Museum for Oriental Art and Culture, Paris), Oriental Festival (France), Citadel of Damascus and Aleppo(Syria), Music Hall-Lebanon, Rezpect Festival (Prague),Bose Blue Note Jazz Fest (Paris), Cully Jazz Fest(Swiss), Paleo Festival (Swiss), Montreal Jazz Festival (Canada), London Jazz Festival, Fund Raising Concert for Nepal Earth Quake (Irvine, Los Angeles), Washington Kali Temple (USA),to name a few.
Indrani got few Cd's to her credit- Classical Vocal, Longingly Yours- Bihaan Music, BENARES- EMI, Blue Note (with Erik Truffaz and Malcolm Braff), White Note and Electro Classical (Sony).
Beside teaching in India, she also conducted vocal workshops in Ali Akbar College Of Music (Basel, Switzerland), Governor's School in Winston Salem (North Caroline, USA), Governor's School in Raleigh (North Caroline, USA),Pandit Jasraj School Of Music (Vancouver, Canada),Sarb Akal (Calgery,Canada), Conservatory of Angers – France, Association Bhairavi-France, Association Hidole- South France, organisation's in Germany and Damascus (Higher Institute Of Music, Syria), Auroville (Pondicherry), Workshop Demonstration – Spic Macay, Kota- Rajashthan and some other places.
Website: www.indranimukherjee.com
You Tube Channel : IndraniSangeet
Email: indrani254@gmail.com
Mobile: +91 9831050910/ 9830129903
Wikipedia - Indrani Mukherjee / Singer